Living Blessed products are natural, ecofriendly, and packaged locally (Cottonwood, AZ | Prescott, AZ | San Luis Obispo, CA | Tucson, AZ) by adults with cognitive disabilities and developmentally delaying disabilities. I believe that support from local businesses towards the community is vital to community health, both socially and economically, and that all businesses share an ethical responsibility to support their community by either producing and/or selling products that protect the consumer and the environment, or by providing services that help sustain individuals and the local economy. Living Blessed strives to employ cognitively disabled adults local to regions with stores that carry our products in order to add to the local sense of community, stimulate local economies and to improve the quality of life of those individuals we can serve.
Living Blessed holds at its core values the belief that all individuals have positive qualities to add to society, share the human need to participate and give back to society, and need to experience a quality of life that reflects personal value and meaning within the context of their abilities, native culture, and surrounding community. Individuals with cognitive disabilities share this need and desire for a meaningful and productive life. This company also has a core value belief that products sold to the public need to be natural and healing with stewardship towards our planet a foremost concern.
Living Blessed is committed to producing clean, organic, simple, natural, non-gmo and gluten-free products that promote personal balance in health, a greater degree of independent personal health as a consumer and stewardship towards the use of our planet's resources.
History of Living Blessed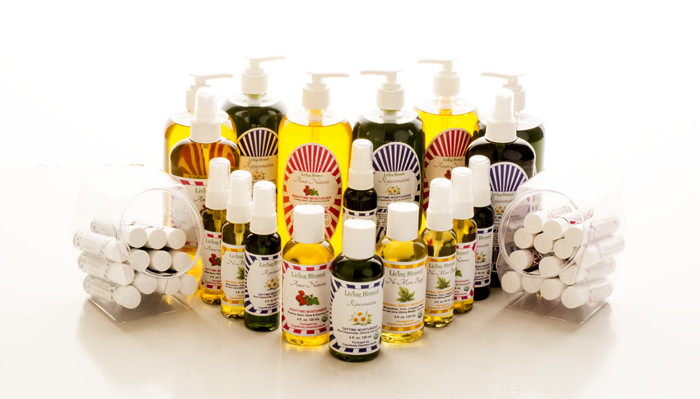 Living Blessed was born, or spontaneously created, out of need, desire, and hope. A need to put simple, yet effective, products on the market that will encourage and empower individuals to research and create greater degrees of personal responsibility towards their own health, independently of the current system when possible. A desire to positively impact the local community with a model for employing cognitively impaired adults who live with a variety of developmentally delaying disabilities. These individuals desire, want, and need the same job satisfaction that individuals without such impairments desire. Being a contributing member to society matters for their quality of life, just as it does for ours and I believe businesses have a responsibility to society to give something back and to set an example as a role model rather than simply being in business for their own satisfaction and monetary desires. A hope to make a difference in our community, in the lives of the individual's we help employ, and in the lives of our customers who support us over time.
Most recently, Living Blessed began as a way to teach job skills to cognitively impaired teens who can work with assistance, and as a format to provide jobs after graduation. I see a need and am doing my part to fill it. Many of these kids fall through the system and do not have the same chances to create a healthy life of contribution that we do. With a little help from friends these kids can live as blessed as we do. The ideas for the company products have been brewing for about 30 years and stem from my professional experiences with cognitively impaired individuals, my personal experiences and classes regarding natural remedies for health issues, and the realization that much of what is happening around the world is due formats and attitudes that are creating an imbalance in many areas including a lack of caring for fellow humans and a lack of stewardship towards the planet.
Looking at life from a different perspective, one can realize that every single person is blessed and has something amazing to give that will hold the world up in a positive way when given a format to contribute. If each of us gives our best, or even if we just try to do better, the world will move in a positive direction towards balance and abundance. Helping each other creates a blessed experience for everyone. Putting all that together into one picture, in a business format, brought about Living Blessed.